Glorya Kaufman Creative Community Center
CULVER CITY, CA
The Glorya Kaufman Creative Community Center and Housing is a multi-phase addition to the Wende Museum of the Cold War's campus in Culver City's cultural corridor. The Creative Community Center will be a 7,500 square foot multi-use space – like a Swiss army knife – for cultural, educational, and social services, and will include a theater for live performances, a community garden, and art space. The Creative Community Center will be built in the first phase followed by a supportive housing development for artists. Both phases are designed to appear unified with the existing Wende Museum's 1940s-era armory facility. When complete, the campus will feature a family of buildings that are interconnected visually but independent architecturally.
Project Category
Entertainment, Institutional, Civic, Multi-Family Residential
Status
GKCCC: 2023 (est.)
Housing: 2024 (est.)
Size
7,500 sq. ft.
80-seat theater
The building is designed as a series of three concrete terraces that extend up from the existing Wende Museum gardens. Each terrace connects to an existing 2,000 square foot A-frame building. A three-level vertical solar fin façade wraps the terraces and seamlessly joins old with new. The building will be filled with natural daylight and plenty of cross-ventilation and shade through the playful pattern of the façade. The A-frame building will be completely refurbished and transformed into the performing arts venue.
The Center will maintain and establish operational, meeting, and educational space for community partners including the United States Veterans' Artist Alliance, Culver City Unified School District, the Mayme A. Clayton Library and Museum, and Upward Bound House. Programs are intended to be offered free of charge to the community.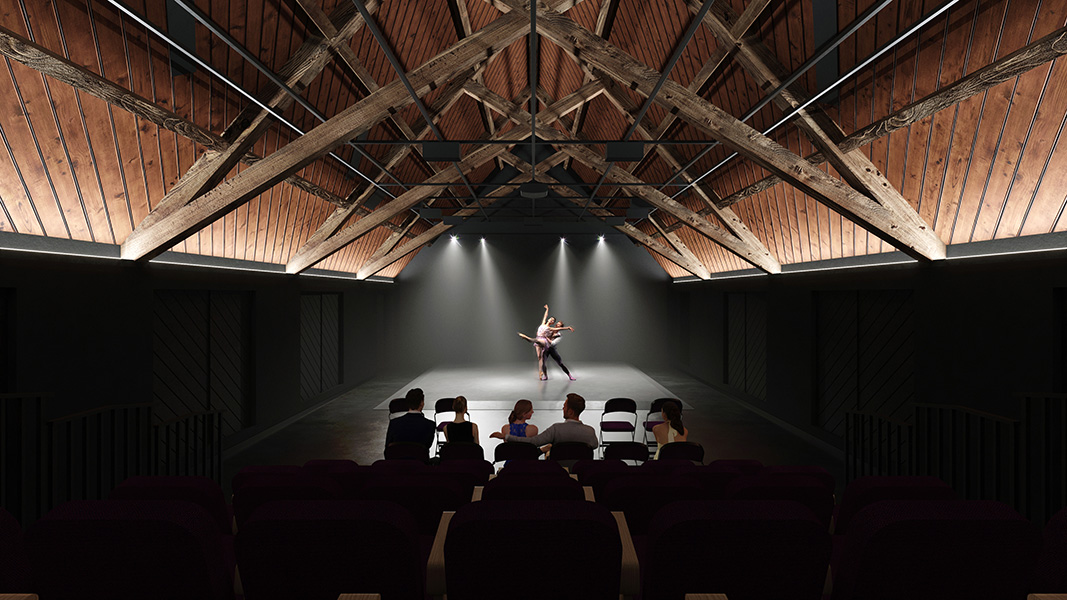 AUX Team: Brian Wickersham, Sabina Lira, Leon Cheng, Chris Driscoll, Titus Dimson, Ivan Laguna, Taylor Sanderson, Robert Kang
Consultant Team: Gardiner & Theobald, Nous Engineering, LC Engineering, Alfa Tech, Michael Boyd, SQLA Inc., John Levy Lighting Productions, Robert Fitch Design, Nick Antonio Acoustics